Assembly
Manuals:
Assembly reviews
We gathered some useful reviews for you to browse through, about assembling a Jungle Gym climbing frame with slide.
"Recommended - I would just like to say how pleased we are with the Jungle Gym Fort!! I never thought I would say this, but building it was a pleasure! A friend came over to help me and it went up without a hitch over the weekend, in fact we were both disappointed when we realized that there was nothing left to do. The quality of the kit is excellent, from the inclusion of the correct drill bits through to the use of the special screws that don't slip. Our boys are delighted with it and it looks great in the garden. I have previously helped my brother build one of the more expensive TP towers and I really think that the Jungle Gym kit is better designed and easier to build. At first I was surprised that we would have to drill our own holes, but now I realize that this actually speeds up the build process as you aren't trying to compare numerous pieces of wood looking for the one that has that 'extra hole' and you don't have the problem of holes not aligning as they should, as every build can sit slightly differently."
-
Mark
"Solid, fantastic value for money - An excellent, solid climbing frame which is fantastic value for money, I am a child minder and the kids love it. I would say that the instructions say it takes 2 people 4 hrs. to build it. But it took my husband and I all day to do. Don't let that put you off, it's definitely worth the work. Highly recommended."
-
Julie
"Good instructions - Thanks to the good instructions putting it together is very doable. It takes a while but the result is very satisfactory."
-
Penv
"Laymen can put it together - We have a large playground in September put in our garden for our daughter's 3rd birthday. The Jungle Gym Palace, the Bridge and the Swing Module. The assembly was much easier than we thought. Jungle Gym gives such a good explanation that even laymen can put it together. My daughter 3 thinks it's great, but also our son of 1.5. Have fun!"
-
Admin
"Great fun - My husband and his friend have had great fun I think putting it all together, and the children love it. We will definitely recommend you guys to all our friends when they come to play!"
-
Anne
"Fairly easy - We bought this playhouse and climbing frame for our three children. Having done some research online we felt Jungle Gym got better reviews and seemed very flexible if we wanted to add further pieces in later years. Once delivered and installed we were really pleased with the finished results. High quality materials and clear instructions made putting it up fairly easy. Our only piece of advice would be, if you are putting the playhouse onto the raised frame it will need two strong people to lift it. Otherwise, The kids love it and are out on it most days – money well spent on a quality product, we won't hesitate to recommend it to friends."
-
Peter
"Feels safe and sound - Bought this climbing frame a month ago after doing much research on other websites. Pretty soon it became clear that with all its specifications this was the winner. Assembly can be considered easy and comes with a good explanation. The timber is good quality and even more important it feels safe when sitting inside of it yourself. Anchoring to the ground was easy with 3 packs of cement just scattered around the poles of the set. Now that it is done it's not only fun for the children but even the garden looks better. The slide is solid and does not wobble. Also the ladder is well made. Also worth mentioning is that all hardware, tools and materials are included, you only need a hammer and electric drill. I put it together with my father and it's a piece of cake with 2 people. So definitely recommended. "
-
Ben
"A real breeze to put up - Really pleased and it was a real breeze to put up. I would definitely recommend your company and the gyms to anybody."
-
Simon & Sonia and a very happy Max
"Great product - Great product but we had a nightmare trying to install - I would recommend using a fitting service."
-
Olive
"A bit of brain power needed - WOW our little fella loves it and he and his little friends are all over it. Took a bit of brain power to build but fairly straightforward."
-
Stewart
"First time installing - This was our first time installing the Jungle Gym Lodge, however we built it in 1 day. Compared to other frames we have put up in the past this one was 100 times better. Instructions were very clear, all wood and fixings were of very high quality and there were even plenty of spares too just in case. Combined with fast, friendly delivery we hope to be putting more of these up in the future. "
-
Thomas
Assembly FAQ
Any questions before, during or after assembly?
A fully trained team is available to assist you with any questions, queries or assistance that you may require.
[email protected]
+31 85 4444 100
Monday - Friday: 9am - 5pm (UTC +01:00)

Is it difficult to assemble a Jungle Gym climbing frame yourself?
No, this is not difficult at all. With the illustrated step-by-step instructions and included brackets and tools, assembling Jungle Gym playground equipment is a very straightforward job. Everything is designed to make it as easy as possible and we recommend assembling with two adults.

What is the assembly time?
This is different for each product. You will find an indication by clicking on the button "product specifications" found on each product page of this website. For example the assembly time for the Jungle Casa is estimated at 5 hours (with 2 adults).

Which tools are required?
We recommend a hammer, electric drill, tape measure, wood saw, and pencil. Everything else you need is included.

Do I need to anchor the play set to the ground? Yes, all Jungle Gym climbing frames include ground anchors and they insure that your climbing frame does not shift or overturn. Pay attention how to install the ground anchors according to our assembly instructions. Can I combine Jungle Gym parts and accessories with other brands?
No, Jungle Gym products are to be used in combination only with each other. We can only guarantee the safety if you use our specially developed combination of products.

Prefer assembly by a professional?
We understand if you prefer a professional to assemble your Jungle Gym instead, for example if you simply don't have the time. Many Jungle Gym dealers offer optional installation service. Please check the store locator to find out which dealers offer installation service.


Impression videos of assembling a Jungle Gym:
GENERAL SAFETY INSTRUCTIONS
Congratulations on the purchase of this Jungle Gym® Do It Yourself kit. With this Jungle Gym® kit we are confident that you will be able to build a safe play set that will provide pleasure for your children for many years.
Jungle Gym® kits contain specially developed hardware. This material is designed with great care and with the safety of your children as a first matter of importance. The hardware has no sharp angles or protruding parts and is protected against all kinds of weather. All the parts in the kits are designed according to the EN 71-1,-2,-3, -8 & -9 (European Safety Standard) for domestic use, on the condition that the playground equipment is assembled and used properly in accordance with the manual. Do not deviate from these plans or alter the design.
Warnings. Only for domestic use. Only for outdoor use. Maximum user weight is 50 Kg. Not suitable for children under three years. Suitable for children from three to ten years.
This product is intended only for domestic use. Usage in a public setting such as a park, playground or school is a misuse of the product and may result in premature wear and also serious injury.
Carefully read these assembly instructions before you start with the assembly and save these instructions for future reference.
SAFETY INSTRUCTIONS
Timber
Treat all sawed surfaces and ends with an outdoor wood preservative to prevent the wood from rotting; even when pressure treated wood is being used.
Pay extra attention to parts that make contact with the ground.
Treat all counter sunk holes and holes for the Rope ladder or Climbing rope with stain.
Safe play area
Place the playset on an unpaved steady surface, such as grass or a solid layer of sand. Do not install your play set over concrete, gravel, asphalt, or any other hard surface.
The ground surface must be level. Installing your play set on sloping ground can cause it to lean or "rack". This leaning puts additional stress on all connections and joints and in time will cause those connections to loosen and fail.
The safe play area refers to a zone extending 6' (200 cm) beyond the play set on all sides.A fall onto a hard surface can result in serious injury. Install the ground cover in the safe play zone. The following is a list of recommended ground covers.
Suggested material, Minimum uncompressed depth
Double shredded bark mulch, 20" (50 cm)
Uniform wood chips, 20" (50 cm)
Fine gravel, 20" (50 cm)
Fine sand, 20" (50 cm)
Grass
Remove all tripping hazards such as rocks, stumps, roots etc. from the safe play area.
The safe play area must be free of all structures, fences, garage,house, overhanging branches, laundry lines, electrical wires and other obstacles to ensure safe play.
Do not situate your play set in the direction of walks or gangways.
Any edging used to contain the ground cover must be beyond the safe play area (Landscape timbers or other edgings).
Safe installation
Children should stay out of the work area until the safe play areais cleared of obstacles, the play set has been completely installed, all hardware has been tightened and checked, and all tools and other items that don't belong in the play area have been picked up.
When building this play set, at least two adults are required forlifting and holding beams, frames or other heavy assemblies in position before bolting or screwing.
Check all the parts and group them systematically within reach. Compare these with the parts list.
Wear proper clothing and safety equipment (e.g. safety glasses, dust mask and gloves) when you saw, drill, grind, stain or assemble the play set, especially when working with pressure treated timber.
Follow the manufacturers' safety recommendations for the toolsand equipment you use.
Do not stand on the platform until the play set has been completely assembled; use a stepladder if you can not reach high enough.
Avoid assembling your gym in poor weather conditions.
The play set must be securely anchored to prevent the play setfrom turning over or shoving. If soil conditions permit stakes to be pulled out easily, cementing is required. Be sure that the ground anchors do not stick out of the ground because children can trip over them.
After assembly be sure to use a metal saw to cut off any protruding threaded ends of bolts and other fasteners. Remove any sharp edges with a metal file.
To prevent splinters, sand the wood with a piece of sandpaper Also smooth all corners with sandpaper or a metal file to a radius of 1/8" (3 mm).
Do not attach extra items to this gym set, such as ropes, chains, heavy cord or other items.
Do not combine products of other manufacturers with Jungle Gym® products because they may create safety hazards.
Only use the Rope Locks™ in combination with Jungle Gym® swing hooks. Do not use the Rope locks™ for other purposes, such as mountain climbing or pulling loads.
The screw thread of the Swing Hook LS must be screwed into the wood fully and tight against the cross beam. It is important that you align the Swing Hook in the proper position. An improperly installed or misaligned swing hook will break or -pull out and cause injury!
The distance between swinging accessories (for example a swing seat) and the ground should be at least 14" (35 cm).
The distance between an accessory and the frame, should be at least 12" (30 cm).
The distance between the Swing Hooks should be 18" (45 cm).
The distance between swinging accessories should be 18" (45 cm).
A Climbing rope or a Rope ladder always has to be secured at both top and bottom, because the free-hanging Rope could cause serious injury or death due to strangulation. Ropes should not be capable of looping back on themselves.
INSPECTION AND MAINTENANCE
To ensure the safety of the users of the play set, the play set has to be subjected to the safety inspections mentioned below once at the beginning of each season and further twice monthly during the usage season. If the maintenance checks are not carried out regularly the activity toy could overturn or otherwise become a hazard.
Wood components
Inspect for splinters and possible other structural defects.
Maintain the set with periodic applications of exterior wood pre-servative to prevent wood rot. Do not use paint or other finishes that can cause a slippery surface.
Hardware
Check all hardware to be sure it is tight. Caution: over-tight-ened hardware crushes the fibres of the wood resulting in splitboards.
Check the remaining hardware, brackets and swing hooks also for rust, which can have affect on the strength. Replace when necessary.
Check the ground anchors to be sure that they are secured. If necessary, reposition or replace.
Check all coverings for bolts and sharp edges and replace when required.
Accessories (if appropriate)
Check Rope Locks™ to be sure they are properly installed onto the Jungle Gym® swing hooks. To check the Rope Locks HC, hang with your full bodyweight onto each individual swing rope for a couple of seconds. The Rope Locks SC can be checked by sitting on the accessory with your full bodyweight for a couple of seconds. Replace when necessary. If any squeaking occurs, the Rope Locks HC can be moistened with water or vegetative oil such as olive oil.
Check swing seats and bars for integrity and check swing ropes for fraying or extreme creation of fibre. To examine the rope, open the strands of the Rope where any fraying has occurred and securely check whether the filaments are broken. Check safety belt of baby swing. Replace when necessary.
Check the attachment of the slide onto the platform for any openings in which for instance clothing or strings from hooded jackets can get stuck which results in entangling.
All accessories can be cleaned with warm water and a mild detergent. Heavily dirty slides can be cleaned with a high pressure cleaner. (Be careful not to damage the slide surface and timber.)
Safe play area
Check if the shock-absorbing surface isn't compressed too much, loosen if necessary. Fill up any holes, for example under swing seats.
Check the play set stability.
Check the environment for direct danger like overhanging branches, laundry lines, loose materials.
Environmental protection
Wood parts of play sets should never be disposed of by burning. Dispose of all metal parts so as not to create a hazard. You should never burn pressure treated, stained or painted timber yourself, because of environmental pollution. Take it to your local disposal site.
Safe play
Attention:
On site adult supervision must be provided for children of all ages and at all times.
Teach the children to play safe.
Dress children appropriately. Avoid accessories, clothing with drawstrings, loose fitting clothes and stringed items placed around the neck, which could become entangled or snagged on equipment. Also bike helmets should be taken off before playingon playground equipment.
Last but not least: use common sense to avoid any possible unsafe situations.
Jungle Gym® products are designed for use by children age 3 to 10 years old, unless indicated differently.
Safe play (fig. 1)
1. Equipment should not be played upon in wet weather conditions because of potentially slippery surfaces, in periods of frost, even the softest ground can change into a very hard surface. Accessories should be removed and taken indoors when temperatures drop below 0° C (32° F).
2. Using the playground or the accessories in any other manner than the way intended could lead to damage or, even injury. Do not twist or wrap swings, chains, ropes or any other accessories. Twisting will reduce the strength of the accessories and may cause entrapment.
3. Caution children not to:

jump off swings while they are in motion
swing empty seats or other empty accessories
swing at an angle
hang upside down from any part of the gym set
grasp or stop another child on any moving equipment
walk close to, in front of, between or behind moving accessories
4. Caution children to sit in the centre of the swings with their full weight on the seats. Only one child per each planned occupant seat should be allowed. A standard tower: maximum 3 children are allowed to play on the play set with a maximum weight of 110 pounds (50 kg) each. A standard tower in combination with a swing: maximum 5 children are allowed to play on the play set with a maximum weight of 110 pounds (50 kg) each.
5. Climbing on top of the roof or on top of the Module must not be permitted. Serious injuries can result from falls.
6. The play area must be free of all structures and obstacles.
7. Each open area on a platform increases the risk of possible accidents. The risk can be significantly reduced with the addition of safety features like handles, safety bars and fence boards.
8. Do not allow children to go down the slide in any other manner than sitting. Avoid southern sunlight exposure to the slide. All components may become hot when exposed to direct sunlight. Make sure the play set is not hot before allowing children to play. If necessary the play set can be cooled down with water, dry the play set before using. Do not spray water on the slide to increase speed as children slide too fast, which can cause injury.
9. Do not attach anything to the play set that is not approved by Jungle Gym. Some examples of items NOT approved are dog runs, clothes lines, electrical devices, loose ropes or chains etc.
Required tools (fig. 2)
1.Tape measure
2. Pencil
3. Hack/ wood saw
4. Wood- & metal file
5. Electric drill
6. Hammer


Standard bolt connections (fig. 03)
Drill a hole of ø 10 mm in the parts to be fastened.
Drive the barrel of the weld nut into the holewith a hammer. The barrel of the weld nut should be inside the wood.
Place the lock washer over the shank of the bolt, followed by the flat washer and bottom part of the boltcap. Start preliminary tightening of bolt into the weld nut by hand before using the 13 mm socket in your electric drill to tighten each bolt until the spring action of the lock washer is fully compressed between the head of the bolt and the flat washer. Close the bolt protection cap with it's top.
If the bolt appears to be too short, we advise to counter drill the upper part of the hole in the thickest part of the wood with the ø22 mm drill, to a depth of 15 mm or more, so the bolt will be sunk after assembly. Treat the hole with stain. Because the bolt head is recessed now, there is no need to use the bolt protection cap.
If the bolt appears too long, it is necessary to remove the protruding end by cutting it off using a metal saw. If any sharp edges appear, use a file.
Pilot holes (fig. 4a+4b)
In order to prevent the wood from splitting, drilling pilot holes are recommended for all screws. These pilot holes should be 10 mm shorter than the length of the screws.
Wood screws (fig. 4a)
Drill ø 3 mm pilot holes for wood screws.
It is very important to make certain that the tops of all screws are flush with the surface of the wood and there are no protruding sharp edges.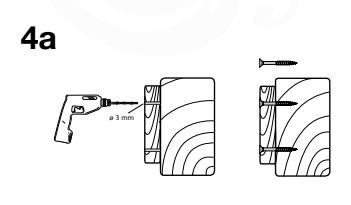 XL Stealth™ fasteners (fig. 4b)
For a XL Stealth™ first drill a hole ø 5 mm through both parts to be fastened.
Place the flat washer and bottom part of the bolt cap over the shank of the screw. Place screw in hole and use the T40 bit in your electric drill to tighten. Close the bolt protection cap with its top.
Caution: do not over tighten bolts and screws!
When hardwood is being used it may be necessary to drill pilot holes with a larger diameter, depending on the density of the wood.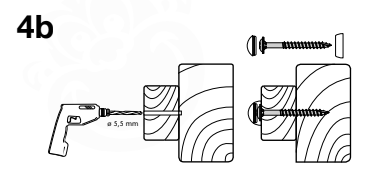 General Safety Instructions (PDF)